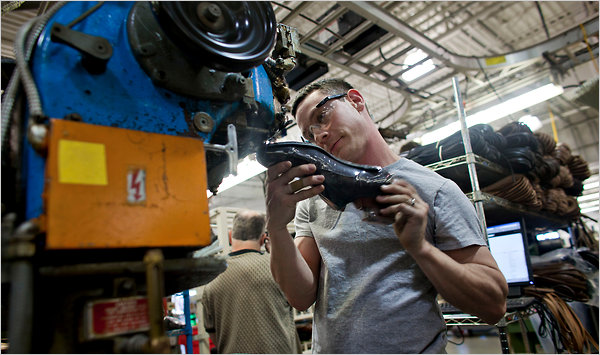 American made shoes are kicking their heals in the air these days, according to a recent NYTimes feature "At Their Feet, Crafted by Hand" (Eric Wilson, 4/20/11). The story follows a recent upswing in buyers of American footwear (sales are up 50%), where only a handful of manufacturers still exist.
'Trend' is uneasy word for an industry that relies on a steady customer base. But at $360 for a pair of Allen Edmonds or Alden's, the price shouldn't create mass market stampedes. And in the current economy, the market rise can look like an anomaly.
But the news piece doesn't wear out much shoe leather tracking down the reasons for the rise in high end shoe sales. Though cultural studies professors at FIT weren't tapped for explanations, they spot some of the appeal, in value. A well cared for pair of top line shoes can last for fifteen years, and Allen Edmonds has a reconstruction program ($90 from heel to toe) that may well keep their shoes going a lifetime.
'At Their Feet, Crafted by Hand' could have also been pointing to the reclaimed antique floors (from American made trees) under the foot of these shoes – much of the same quality, process, and pricing fit.
Photo by Darren Hauck for the New York Times