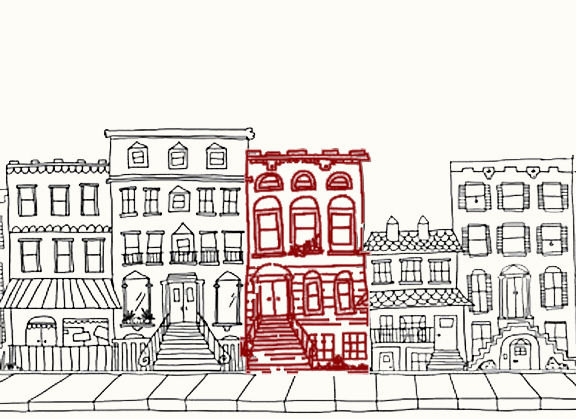 Sawkill will gut renovate an old row house in Brooklyn. The chronicle begins here. It's a daunting task for first time homeowners, but offers the chance to design and retro-fit a high efficiency home. At the outset, the scope still looks like the back side of a blueprint, due to hidden and patchwork mechanicals, potential structural surprises and plain inexperience. The Passive House certification may not be within budget reach, but the house has retro-fit friendly features that make it a good prospect still – that's the current assessment of an energy consultant. At least three factors contribute 1. A gut renovation can not be avoided in the aftermath of a half century of patchwork repairs, and this opens the interior for a better retro-fit. 2. Relative to the heavy masonry walls of a brownstone, a wooden house allows access to the front of the building, easier for adding insulation. 3.  The thin Federal style brick walls create a kind of single lane thermal bridge to limit heat loss. Added to a south solar rear, bad bones look good – at least for the energy retro-fit.  
Passive House is more than off the ground in New York, with resources and specialized materials quickly developing, like a young tree sapling passing a potentially stagnant growth stage. It's a deceptively simple and elegant approach – amounting to super insulating the house and ventilating it's hermetic envelope. Sawkill recently supplied woods for Passive House projects in Prospect Heights and Clinton Hill; both encouraging Brownstone studies – though not yet inhabited. But without a longer track record, PH can still seem like an early phase science experiment. Except that it's a growing niche in Europe: over 25,000 PH structures since the late 80's.
The posts here will ramble through the promises and pitfalls of energy efficiency, salvaging and re-manufacturing woods, the nuts and bolts of renovation work, house history, related currents. If birds or running water are heard, we've probably stepped into the backyard to take a rest.