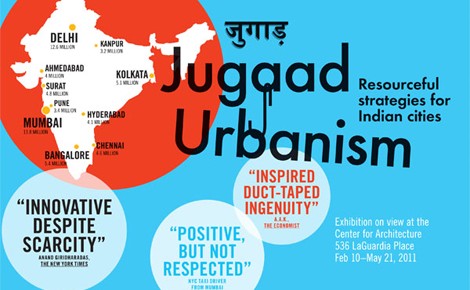 "Jugaad Urbanism: Resourceful Strategies for Indian Cities" in NYC!
The intense environment of 1.1 billion people living in India has generated a range of strategies for the efficient use of space and energy. Many of the responses come from citizens 'making-do', and these ideas then developed into sustainainble projects by architects, urban planners and government. Juggaad Urbanism (a Hindi term used to describe an innovative and resourceful solution), currently on exhibition at the Center for Architecture, highlights some of the ingenious work that includes spinning wheels, skywalks, new recycled materials and reclaiming every scrap of wood (A subject of a future blog entry).
But the remarkable resourcefulness of everyday life in India, where little is wasted; and recycling, fixing and minimalism is an everyday necessity, can seem a model with as much value as the mountains of overseas containers that enter the U.S. market.
Time – February 10- May 21, 2011
Location – AIA Center for Architecture, 536 La Guardia Pl (between Bleecker and W 3rd St), New York City
Find out more at: http://cfa.aiany.org/index .php?section=upcoming&expid=136