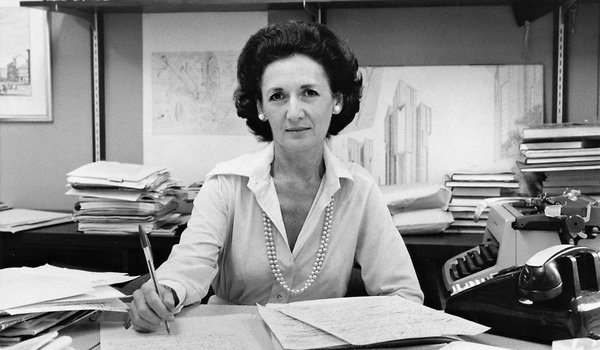 Ada Louise Huxtable (March 14, 1921 – January 7, 2013) began her career at the Museum of Modern Art (curatorial assistant for Architecture and Design 1946-50) before becoming the first architectural critic of the New York Times (1963-82). She wrote over ten books and was considered a central figure in creating the New York City Landmark Preservation Commission in 1965. In 1970, she won the Pulitzer Prize for architectural criticism. 
A love of both historic and modern architecture, and the city that swirled around it, helped her to understand how the built environment can elevate our public and private lives. She responded in criticism that was hard hitting and humor filled, scholarly and street smart, advocating for the best standards that each successive era could attain. What would the city look  like without the remarkable work of Ada Louis Huxtable and others, keeping the delicate tension of old and new alive? More historic ruins hauled to the landfill and far less of the architectural marvels that have been built in modern times. 
Her academic training was in architectural history and one of her early books, "Classic New York: Georgian Gentility to Greek Elegance", helped to inspire research and a landmark campaign that began in 2002. A few years ago, I had an opportunity to meet with Ada Louise Huxtable to discuss the 1832 Greek revival warehouse at 211 Pearl Street and the designer of it's architectural type, Ithiel Town (1784-1844). Even at ninety, her critics edge and poise showed little signs of being dismantled. (photo: NY Times).